Message from the Chairperson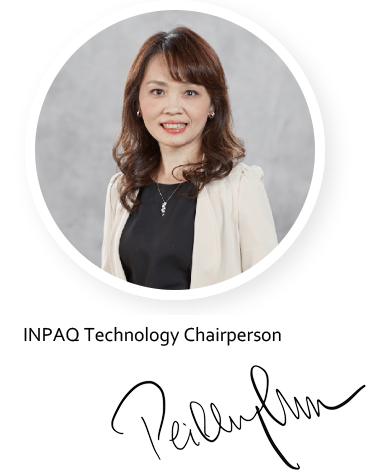 Looking back on 2021, the whole world continued to be ravaged by the COVID-19 pandemic which has been raging for more than two years. The more recent outbreak of the Omicron variant has caused renewed hardship. However, as a result of the rapidly rising vaccination coverage in major economies and the successive easing of stringent control measures by national governments worldwide, business activities are back on track. Due to the added impact of the successive implementation of financial policies by countries all over the world, the global economy is staging a slow recovery. New technology applications such as 5G and automotive electronics are highly conducive to the continued expansion of the global electronics supply chain. Finally, the reactivation of supply chains against the backdrop of the abating pandemic has caused demand in the electronics industry to pick up steam in addition to generating an economic climate of steady growth.

INPAQ Technology Co., Ltd. (below referred to as "INPAQ") is a professional manufacturer of electronics parts & components. Its business operations are centered around the areas of IoT, IoV, mobile payment, smart wearable devices, wireless charging, automotive electronics, and 5G communications. Following the rise of IoT applications coupled with ongoing advances in the field of wireless communications technology, INPAQ made an unwavering commitment to developing new products and technologies and expanding its markets with the ultimate goal of enhancing its product quality, securing orders from renowned international customers, and ensuring stable revenue growth.

In the face of a fiercely competitive business environment, INPAQ spares no effort in devising ways to realize sustainable corporate operations and strengthen board performance in the corporate governance dimension. In recent years, our Board of Directors has enlisted experts from all fields to participate in its operations. Board diversity has been enhanced to facilitate solicitation of a wide range of opinions. In addition, the board has approved the appointment of a Corporate Governance Officer, who is responsible for the provision of data required for the execution of board duties and assistance in legal compliance by the board. Rules for Performance Evaluation of the Board of Directors have been formulated to raise the quality of board decision-making. We also disclose important rules and regulations, corporate governance practices, and stakeholder communication conditions on the official INPAQ website to enhance information transparency. A Sustainability Committee has been formed to officially demonstrate our commitment to implementing Environmental (E), Social (S), and Governance (G) concepts in our daily operations to internal and external audiences. On the whole, the Company performs very well in the corporate governance dimension.

Furthermore, INPAQ strives to constantly enhance and refine its environmental management operations and control measures in response to the worsening impact of global warming and climate change with the ultimate goal of minimizing negative impacts on the environment. In the field of water resource management, INPAQ has adopted an approach of ongoing process improvements and reinforcement of wastewater controls. In 2021, the Company implemented improvements of its electroplating line, which is expected to reduce average daily water consumption by 12.5%. A large-scale increase in production capacities in the most recent three years has resulted in rising energy consumption and carbon emissions. As a result of determined efforts to raise the effectiveness of energy conservation and carbon reduction measures, our average energy conservation rate consistently reached 1% or more in the most recent three years.

In the field of supply chain management, INPAQ has a solid supplier audit and evaluation system in place. We conduct annual on-site evaluations of all our Taiwanese suppliers to ensure that their products, quality, technologies, and ESH policies conform to applicable laws and regulations and our own requirements. We also ensure that our raw material suppliers refrain from using hazardous substances listed in the REACH Regulation and RoSH Directive. In the future, we will forge ahead on our path toward a sustainable supply chain and persist in our efforts to realize corporate sustainability in cooperation with our supply partners.

As a leading provider of circuit protection components and antenna products, INPAQ attributes its success in the development of innovative products to its outstanding manpower resources. We offer highly competitive salary and benefits packages to attract promising talent. Sound annual training systems are in place to ensure continued learning and professional growth of our employees. Various welfare measures have been adopted to enhance employee identification with the company and achieve work-life balance. We also implement occupational safety management and provide our employees with a safe work environment based on an ongoing commitment to safeguarding the mental and physical well-being of our employees. Furthermore, we strictly abide by the business continuity guidelines promulgated by the Central Epidemic Command Center in response to the raging COVID-19 pandemic. We have formulated an epidemic prevention and contingency plan required by local government units to implement effective controls in the fields of personnel entry and exit, environmental hygiene, dietary sanitation, and self-protection measures and thereby mitigate the impact of the pandemic on the Company's operations.

In the social engagement dimension, INPAQ ensures that valuable resources are channeled to individuals in need of assistance through collaboration with its operating sites and local organizations. In addition to our social welfare engagement, we respond to calls for action by the group and make charitable donations to the charity foundation established by the group. The ultimate goal lies in the most effective utilization of resources for the benefit of society by relying on the kindness and compassion of many individuals.

Looking ahead, INPAQ will continue to place equal emphasis on profit growth and reinforced efforts in the ESG dimension which involves protection of shareholders' equity, development of green products to reduce environmental impacts, employee care to ensure their mental and physical well-being, and social welfare engagement with the ultimate goal of realizing corporate sustainability.